I was recently given the opportunity to travel to the Greenheck headquarters in Schofield, WI to tour their factory and learn more about their products.  Greenheck is a manufacturer of fans for building exhaust and make up air units.  They also produce energy recovery units, kitchen hoods, louvers, dampers, packaged rooftop units, gravity ventilators and much more.  Davin Hicks of Airetech (located in Springdale, AR) made the arrangements and accompanied me on the trip.
Our first stop after arriving in Wisconsin and settling in at the hotel was dinner at Sconni's Alehouse and Eatery for some cheese curds and dinner.  The next morning we headed over to the Greenheck Education Center to review the products that they offer.  First up was make up air units (MAU) which are used to provide outside air to a building that has significant amounts of exhaust.  While a normal air conditioning unit is designed to handle about 10-15% ventilation air, these units are designed to condition 100% outside air and bring it to the desired temperature before blowing it into the building.  We even got to see a demonstration of their direct fired heaters which are compact heaters that have the gas flame directly in the air stream.  Of course, because the burner is in the air stream, this style of MAU can't be used everywhere but it made an impressive sight.  In those cases, an indirect gas furnace can be used.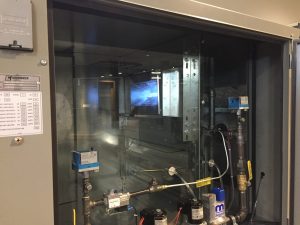 We also reviewed Greenheck's Accurex kitchen exhaust systems including their unit designed for commercial use of residential equipment.  This style of hood, if allowed by the local code authority, is a great solution for non-profits or small commercial applications that don't have a need for a full-size commercial hood.  We also reviewed the various filters available for kitchen hoods and the advantages of variable speed fans for kitchen exhaust.
| | |
| --- | --- |
After a quick stop to review their online equipment selection tool, louver products and dampers we ate lunch and then went to see the main event, Fan World.  At Fan World, we got to see all of Greenheck's various fans and configurations from giant industrial fans to standard bathroom exhaust fans.  One of the most interesting displays was a box with a standard commercial glass door on one side.  The box could then be either positively or negatively pressurized to demonstrate the importance of air balance in a building.  When the box was over pressurized the door would open on its own.  When under negative pressure, you had to pull very hard to get the door open.  Not a good situation if your customers can't get in the building!
| | |
| --- | --- |
In the afternoon, we were treated to some skeet shooting.  Davin and I tied in the first game and he let me win in the second, although he denies it.  With the help of the Greenheck hosts we were able to catch some pretty awesome slo-mo videos of us hitting the clay pigeons.  After shooting we had some pizza for dinner at Red Eye Brewing company.
| | |
| --- | --- |
The next day we toured both the fan factory and the make up air unit factory.  As a big fan (pardon the pun) of TV shows like How It's Made, this was a particularly enjoyable part of the trip.  Seeing the material worked and assembled into equipment is always an awesome experience.  Processes like metal spinning can seem like magic as the turn flat panels of aluminum in the necessary parts for a fan housing.  We also got to see some methods of quality control that Greenheck uses to make sure their fans operate as intended.  One of our last stops was at the Innovation Center to see where Greenheck does some of their prototyping and testing of their equipment.  They have test stands that can simulate years of wear on a fan blade.  Greenheck also has a gigantic sound chamber that they can use to rate their equipment's sound levels.  Seeing some of the videos of their tests where they destroy the fans was pretty interesting!
After the factory tours we collected our bags and headed home.  Special thanks to Airetech for setting up this trip and to Greenheck for being excellent hosts.  At Forward Engineers we are committed to ensuring that our projects are designed with equipment that best fits the needs of our clients.  That is why we routinely work with vendors such as Airetech during the design process to make sure that the equipment we specify on our drawings is the right equipment for the job.  If you are seeking to work with an engineering firm that is client-centered and strives to provide services that are on time, on budget and exceed expectations, please contact us. We would love to work with you on your next project!