I recently had the opportunity to tour the historic Bishop's Palace in Galveston.  Originally built in 1892 for lawyer and politician Walter Gresham, the Roman Catholic Diocese of Galveston purchased the house in 1923 as the residence of the Bishop Christopher E. Bryne.  The diocese offices were eventually moved to Houston and the home was opened to the public in 1963.  I really enjoyed seeing the historical elements including some fantastic original plumbing.
The first fixture we saw was a fold down sink in the coat room.  The most interesting element of this sink was the drain.  Rather than having a drain at the bottom of the bowl, this sink would simply fill up and flow out of the back of the sink and into the base of the lined cabinet to eventually go down the drain.  When done using the sink, it could be lifted up and stowed in it's cabinet which would also drain any remaining water in the sink.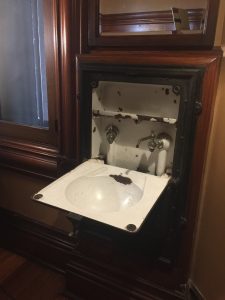 A sink in the butler's pantry showed some old plumbing materials and how the pipes were routed under the sink.  You can see in the image below the overflow drain was piped to the main drain before entering a very sharp P-Trap.  The trap vent goes up and into the wall while the waste turns and goes down to the floor.  What looks like an additional pipe going to the center of the sink is just a support for the heavy material.
One of the neatest fixtures in the building was a bathtub next to Mrs. Gresham's bedroom.  This tub had three faucets, one for warm water, another for cold water and a third for rain water that had been collected from the roof and stored in a cistern.  This bathroom also had a water closet and sink.
As a designer of plumbing systems, I routinely inspect the plumbing of buildings I enter to look at how it was designed and installed.  The Bishop's Palace tour gave a unique historic look at plumbing and a sense of appreciation for our modern materials and methods for plumbing design and construction.  If you are seeking to work with an engineering firm that is client-centered and strives to provide services that are on time, on budget and exceed expectations, please contact us. We would love to work with you on your next project!